The Upper Cervical Advocates meet monthly at TLC, 314 W. Lincoln, Mangum, OK 73554
The scheduled time is the second Wednesday of each month. Call 580-215-4950 so we can prepare for your attendance.
UC What's Up
Join the Upper Cervical Advocates.
Help us, help others, many are waiting for help!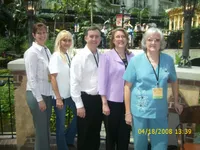 TLC always encourages everyone to see how they can benefit from Upper Cervical Chiropractic. Each month you have a great opportunity that lets "UC What's Up" from our patient advocates!